Eagles recently lost against the Washington Redskins 3 - 14 in Philadelphia
Overall Record
5 - 10 - 1 ---21th Ranked
Total Offense
228.56 Yds/Game ---3rd Ranked
Total Defense
229.31 Yds/Game ---26th Ranked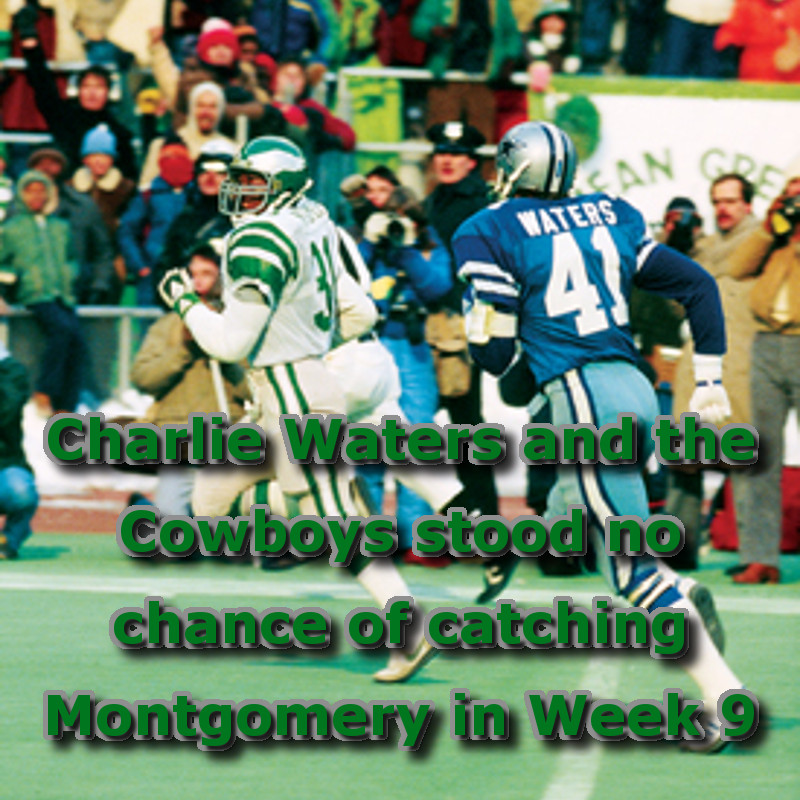 Wilbert Montgomery was a Superstar. Oh, sure – he was a great player, an Eagles legend and their all-time leading rusher until LeSean McCoy came along. But that's not the kind of Superstar I'm talking about.

I'm talking about Superstars, the made-for-television decathlon-like event contested amongst athletes from across the gamut of professional sports. Ever want to see Mike Schmidt race in a 100-yard dash against James Lofton and Mark Gastineau? How about Willie Gault swimming against Robert Parish? Superstars was where you could see all that and more.

For example, I think we all know that Billy Sims can do this:



But did you know Billy Sims could do this?



Yeah, so our hero didn't perform so well in that competition, but I actually do buy his injury excuse – 1981 was the beginning of a period of injuries for him that would lead to his decline and unceremonious retirement from the Detroit Lions five years later.

There were other Superstars spin-off competitions, and in one of those Wilbert and his Eagles teammates did a lot better. It was called SuperTeams, and it pitted the two Super Bowl teams from each year against the two World Series teams. There were relay races in running, swimming, and cycling (with the cycling being done on tandem bicycles), and a crazy obstacle course. If there was a tie, they had a giant tug-of-war to decide the winner. One such year was 1978, when the Dallas Cowboys and Kansas City Royals tied through the regular competitions (now, the sharp-eyed among you will note that the Royals weren't in the 1978 World Series; the Yankees were. George Steinbrenner had clauses in all player contracts that they were to receive permission from him to take part in any outside events. He refused). After a 75-minute standoff in the tug-of-war, neither team had made any progress, so the organizers declared the event a tie.

In 1981, it was the Philadelphia Eagles that took home the SuperTeams crown. They may have lost the Super Bowl to the Oakland Raiders just a few months before, but who cares about the Lombardi Trophy when there's a SuperTeams trophy to display on the mantle.

These specials ran on ABC every year from 1973 to 1994, and then again from 1998-2002. There was a sort of hybrid athlete/celebrity version in 2009 that didn't have any athletes you'd recognize or celebrities whose names you would know. But for the most part, Superstars and its spin-offs have gone the way of Buffalo Bills playoff appearances. I liked these shows a lot as a kid. It's like reality television, but only with people you actually are interested in doing things that are actually interesting.

In the absence of those shows, of course, Wilbert Montgomery had to move on to other endeavors. These days, you can find him on the sidelines of the Cleveland Browns in his capacity as their running backs coach, and before that he was with the Ravens for six years. A few years back, John Harbaugh gave an interview about Montgomery in which he praised the coach in the highest of terms, saying that he's got head coaching potential. Montgomery's stock might not be quite as high now that his role in the Ravens' beastly rushing attack is a thing of the past, but, who knows? Philadelphia wasn't very good before Wilbert came to town, and within three years they were in a Super Bowl.

One thing is for sure, the TLL's 1981 version of the Eagles have a very good shot at going to the Super Bowl if Wilbert Montgomery keeps playing like he did in Week 9 against the Cowboys. Montgomery put in one of the league's all-time great rushing performances with 259 yards and two touchdowns on 18 carries. With a rushing performance like that, the team didn't need to do much passing, but he was also the team's leading receiver on the day, hauling in two passes for 19 yards and adding another touchdown through the air. His efforts led the team to a huge 29-7 win over the division rival cowboys.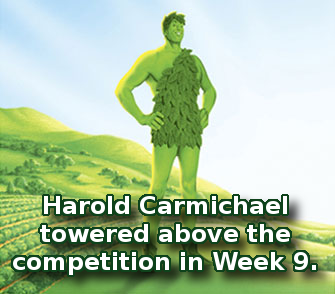 Harold Carmichael was one of the stranger receivers in the history of the NFL.  In the video I've embedded below, you'll see him complaining about the criticism he often got from Philadelphia fans.  "'You're 6-8,' they'd say.  'All you have to do is reach up and get it.  It's that simple.'"  According to Harold, it was not.  It made me wonder - should it be?

I didn't know a lot about Carmichael when we started doing the TLL, and WRs aren't my position, so I still don't know a great deal.  But on first glance, a 6-8 body seems like a giant advantage for a receiver. 

It seems like it would be just that simple - throw it up there, and let Carmichael, or any other 6-8 receiver, go get it.  Randy Moss is big (6-4), and that's what they used to do with him.  Megatron seems huge at 6-5, so how much better would he be if you gave him three more inches?  It seems like his size is a huge part of his dominance, so more size = more dominance.  Right?

It is not that simple.  Simply put, if 6-8 receivers are so great, where are all the 6-8 receivers?  Pro-football-reference.com lists 1,934 wide receivers who have played in the Super Bowl era (1966-current).  The 2010 U.S Census reported that .8% of males aged 25-44 were taller than 6-4; this was true of 70 of the 1,934 receivers who were listed on PFR.  In other words, 3.6% of all receivers who played in the Super Bowl era was taller than 6-4, quadruple the rate of the general population.  So a higher percentage of wide receivers between 1966 and today were 6-5 than Americans, so it does seem like being tall is an advantage.

By way of comparison, basketball-reference.com lists 3,062 people who have played in the NBA over the same period.  Of these, 2,176 were taller than 6-4. or 71.1%  This is 89 times the rate of the general population.  If you're taller than 6-4, you're twenty times more likely to become a professional basketball player than you are to become a pro wide receiver. 

Pro football teams like big receivers, but pro basketball teams like big guys a LOT better.  Two things could explain this preference:

1. Tall people are encouraged to play basketball, so all the tall receivers never make it to the FNFL.  They go play basketball instead.
2. Tall wide receivers aren't actually that good.

Carmichael is not just the NFL's tallest receiver of all time; he's the all-time receiving yardage leader for guys 6-4 or taller, with 8,985 (though 6-5 Calvin Johnson has 7,836 and given his production it seems likely he'll pass him next year; also, 6-5 Plaxico Burress has 8,499, but who knows with that guy?). 

18 of the 70 players at 6-5 or taller have had at least 1,000 career receiving yards, or 25%.  Comparatively, 622 of the 1,934 total receivers in the Super Bowl era have achieved as much, about 32.2%.  So, tall receivers haven't done as well overall as the average ones, but it's a pretty small sample size.

Of the tall, 1000-yard receivers, only 15 players were taller than 6-5.  There was Carmichael at 6-8, and 14 guys at 6-6.  Only one of the 6-6 gained 1,000 yards in his career - Weegie Thompson, who was 6-6 and played six years with the Steelers in the 80s, tallying a career-high of 370 yards in 1988.  In statistical terms, that's .1% of all the receivers in FNFL history.  In other words, if you're taller than 6-5, you're 1/8 as likely to gain 1,000 career receiving yards as someone shorter than you.

It appears that tall receivers are good, but only up to a certain point.  Calvin Johnson = good.  Weegie Thompson = not good.  Harold Carmichael was good, but he was the only guy that tall who was.

Carmichael kicked 100% of the Cardinals' asses in Week 9.  He caught 6 passes for 243 yards and four touchdowns to improve the team to 5-5 and keep Philly's playoff chances alive.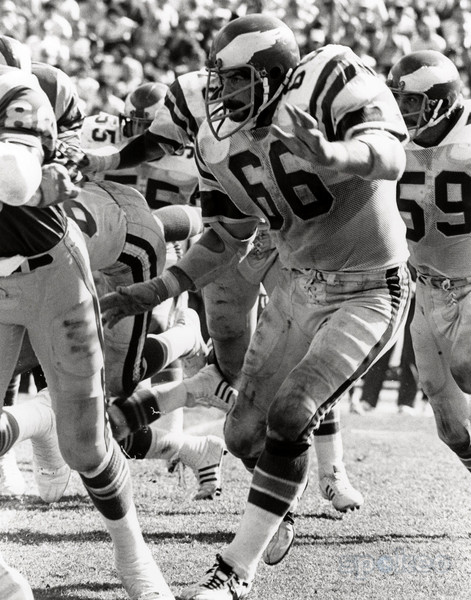 Bill Bergey literally willed the Eagles to victory week 2 against the hard fighting Cardinals.  With his INT return for the score the Eagles were able to avoid going 0-2 and pushed to a 1-1 record.

Bill Bergey's real life 1978 was just about as good as his TLL 1978, except the team around him played much better in the real 1978.  The "Gang Green" defense made the playoffs in 78-80.  Bergey officially retired in 1981 and was inducted into the Eagles Roll of Honor in 1988.  He also dabbled in Color Commentating in 1982-83.

Even with the rough start to the season the Eagles are hoping to ride Bill Bergey to the playoffs.

Quarterbacks

| Name | # | Age | RS | RP | MS | HP | BB | AG | PS | PC | PA | AR | CO |
| --- | --- | --- | --- | --- | --- | --- | --- | --- | --- | --- | --- | --- | --- |
| Ron Jaworski | 7 | 31 | 69 | 25 | 13 | 13 | 19 | 31 | 69 | 56 | 50 | 44 | 69 |
| Joe Pisarcik | 9 | 30 | 69 | 25 | 13 | 13 | 13 | 25 | 44 | 38 | 44 | 38 | 38 |
Kicker

| Name | # | Age | RS | RP | MS | HP | BB | AG | KP | AB | AC |
| --- | --- | --- | --- | --- | --- | --- | --- | --- | --- | --- | --- |
| Tony Franklin | 1 | 26 | 81 | 56 | 81 | 31 | 13 | 38 | 56 | 50 | 50 |
Punter

| Name | # | Age | RS | RP | MS | HP | BB | AG | KP | AB |
| --- | --- | --- | --- | --- | --- | --- | --- | --- | --- | --- |
| Max Runager | 4 | 26 | 81 | 25 | 44 | 31 | 13 | 38 | 50 | 44 |

Additional Practice Squad Players
--------------------No Players---------------------
Overall Record
5 - 10 - 1
21th
Home Game Record
2 - 5 - 1
29th
Away Game Record
3 - 5 - 0
29th
Passing Yards
149.13 Yds/Game
3rd
Rushing Yards
79.44 Yds/Game
9th
Total Offense
228.56 Yds/Game
2nd
Passing Yds Allowed
146.88 Yds/Game
29th
Rushing Yds Allowed
82.44 Yds/Game
22th
Total Defense
229.31 Yds/Game
28th
0 Super Bowls, 0 Super Bowl Rings

| Name | Year |
| --- | --- |
Offensive Players Of The Year

| Name | Year |
| --- | --- |
Defensive Players of the Year

| Name | Year |
| --- | --- |
Player of The Week

| Name | How Many |
| --- | --- |