Washington Redskins recently lost against the Cowboys 13 - 35 in Dallas
Overall Record
8 - 9 - 0 ---14th Ranked
Total Offense
212.59 Yds/Game ---7th Ranked
Total Defense
172.47 Yds/Game ---4th Ranked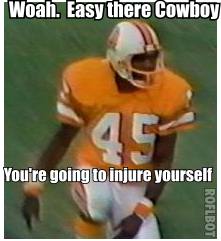 For the second straight season defensive back Jeris White has been lost for the season during a Week 4 game. Last season White tore his achilles while playing for the Miami Dolphins. Tampa Bay acquired the promising young cornerback in the offseason, and White seemed to be settling in with his new team, tallying 5 tackles and an interception. White was injured while trying to cover the swift Cliff Branch. White came up lame after Branch put a nifty double-move on the young corner that resulted in a TD pass from Ken Stabler. Team officials later reported White had torn ligaments in his right knee.
Last season White had 7 tackles, 1 sack, and 1 interception before hitting the injured reserve list.
No Movie (Yet)
Billy Kilmer
QB, WAS

Billy Kilmer was nicknamed "Whiskey Red" by his teammates. According to the Redskins` official website, Kilmer got the name because his face would turn red during games. Ah, yes, the NFL. If you ask the league, it`s always been a mix of squeaky-clean church-boy Tim Tebow types and innocuously amusing "characters." Like Billy Kilmer.

One thing seems clear. Whether or not Kilmer worked up a sweat during games, that has little or nothing to do with the nickname he got from his teammates. During his stint in New Orleans between 1967 and 1970, Kilmer developed the habit of not eating before games during which he was in the starting lineup. Maybe this, too, is just another bit of the sort quirky ritual about which NFL.com loves to run quirky films, but according to a number of former teammates, fans, and journalists, it was widely known that Kilmer routinely spent the nights and early morning hours before games out in the New Orleans bars, bragging and living it up. The Saints went 11-29 with Kilmer at the helm, as he threw 46 touchdowns and 62 picks. In recent years, Kilmer has played down his Redskins` affiliations and declared himself a "Born-Again Who Dat" Saint. This has earned derision and ridicule from fans on Saints message boards across the Web.

One old Saints joke goes that Kilmer always threw the option pass. Why? you might ask. Well, the receiver had his option of which side of the ball to catch, since it was always traveling end-over-end.

George Allen never liked Sonny Jurgenson, the Redskins` starter before Allen took over the team in 1971. Allen`s style was too conservative for Jurgenson, one of the greatest gun-slingers and purest passers ever to play the game, and whenever the QB didn`t like the play, he`d simply audible into one he did. This infuriated Allen, who couldn`t have been happier than when Jurgenson suffered a season-ending shoulder injury prior to the 1972 season. Initially, Kilmer hadn`t wanted to go to Washington, as he was sure that he would play behind Jurgenson, but Allen had assured him that someone with Kilmer`s grit (by which I`m assuming he meant the fact that he continued to start NFL games despite such profligacy in losing and completing passes to the other team) would always have a spot. Kilmer took over the starting role, and Jurgenson was never able to reclaim it.

When Joe Theismann joined the Redskins in 1974 and proclaimed that he was going to put those "old men [Kilmer and Jurgenson] on the bench, Kilmer decided that he would make it his mission to see Theismann relegated to special teams. Kilmer is dodgy on how he proceeded to do this ("I knew my way around a locker room"), but one fact remains clear: by the end of the season, Joe Theismann was the third-string quarterback and second punt returner.

My point is not to deride Kilmer. Rather, it`s to express frustration with the NFL for the way it insists on whitewashing its players, and thus, its history. Football is a violent game populated by many, many angry and troubled men, and it seems that, rather than some kind of amusing character, Billy Kilmer was just kind of a dick during his playing days. But hey – they call it America`s game, and that`s America. A violent place, populated by many, many angry and troubled people. Our history has been constructed upon the lives of a whole lot of Whiskey Reds.

For his part, Washington`s Whiskey Red already has the opponents seeing red this season, just as he did all last season. He completed 7 of his 12 passes, four of them for touchdowns, in the Skins` Week 1 game against the Saints. He finished with 215 yards as the defending champs cruised to a 28-7 win.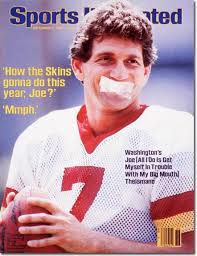 With QB Billy Kilmer in the twilight of his career, only two years removed from a Super Bowl Championship season, Washington has moved on to a newly emerging star in Joe Theismann.  It is reported by teammates that Theismann throws a crisper ball than Kilmer, and that testimony is evidenced by the typically tight, soaring spirals of 'Joey T' versus the high wobblers of Kilmer.  Theismann also brings to the team more mobility and youthful zeal (which is necessary since it seems half of Washington's roster has gained their AARP cards).  Most importantly, though, is the fact that Washington has not skipped a beat as the baton has been passed.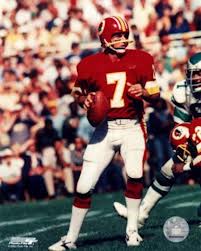 Washington was expected to be a playoff caliber team, but no one projected them to be going toe to toe with the Dallas Cowboys three quarters of the way through the season.  But alas, there Washington sits at (11-1), sharing the apex of the NFC East with the vaunted Cowboys. 
Despite a somewhat lackluster receiving corps Theismann has found much success, notching 18 TDs compared to just one INT.
His passing yards are not gaudy at just under 1,500, but his 60% completion rate is second only to the immortal Roger Staubach.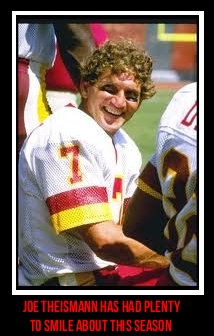 In Week 11 of the 1978 Tecmo Legacy League season there was no better quarterbacking performance than Theismann's effort against the Bears.  The gun slinging QB missed only four times on 15 attempts, throwing for over 200 yards, while producing 5 TDs en route to a 38-0 victory. 
No Movie (Yet)
Quarterbacks

| Name | # | Age | RS | RP | MS | HP | BB | AG | PS | PC | PA | AR | CO |
| --- | --- | --- | --- | --- | --- | --- | --- | --- | --- | --- | --- | --- | --- |
| Joe Theismann | 7 | 33 | 69 | 25 | 25 | 13 | 38 | 44 | 50 | 63 | 63 | 38 | 63 |
| Bob Holly | 8 | 22 | 69 | 25 | 13 | 13 | 19 | 25 | 31 | 31 | 31 | 38 | 31 |
Kicker

| Name | # | Age | RS | RP | MS | HP | BB | AG | KP | AB | AC |
| --- | --- | --- | --- | --- | --- | --- | --- | --- | --- | --- | --- |
| Mark Moseley | 3 | 34 | 81 | 56 | 81 | 31 | 13 | 38 | 81 | 50 | 50 |
Punter

| Name | # | Age | RS | RP | MS | HP | BB | AG | KP | AB |
| --- | --- | --- | --- | --- | --- | --- | --- | --- | --- | --- |
| Jeff Hayes | 5 | 23 | 81 | 25 | 44 | 31 | 13 | 38 | 38 | 31 |

Additional Practice Squad Players
--------------------No Players---------------------
Overall Record
8 - 9 - 0
14th
Home Game Record
3 - 5 - 0
28th
Away Game Record
5 - 4 - 0
28th
Passing Yards
141.24 Yds/Game
6th
Rushing Yards
71.35 Yds/Game
19th
Total Offense
212.59 Yds/Game
5th
Passing Yds Allowed
122.29 Yds/Game
8th
Rushing Yds Allowed
50.18 Yds/Game
1st
Total Defense
172.47 Yds/Game
1st
0 Super Bowls, 0 Super Bowl Rings

| Name | Year |
| --- | --- |
Offensive Players Of The Year

| Name | Year |
| --- | --- |
Defensive Players of the Year

| Name | Year |
| --- | --- |
Player of The Week

| Name | How Many |
| --- | --- |