Minnesota Vikings recently lost against the Lions 12 - 17 in Detroit
Overall Record
3 - 13 - 0 ---25th Ranked
Total Offense
180.25 Yds/Game ---22th Ranked
Total Defense
205.13 Yds/Game ---17th Ranked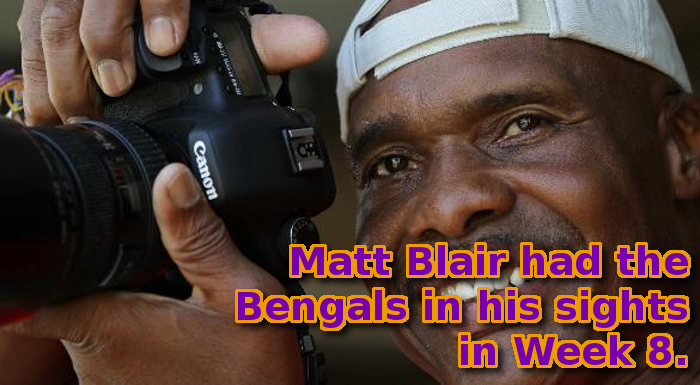 I was talking to a friend of mine the other day.  Her mother had told her when she was young that she was never to date a football player or a firefighter, because they both are going to die young.  But especially not a football player, she was told: chances are they'd take you out even sooner.

Current and former NFL players seem to be a murderous, abusive lot, as a rule.  Honestly, with all the ugly news around football players these days, my love and enjoyment of the NFL leaves a deeply uneasy feeling in the pit of my stomach.  If you're interested, the U-T San Diego newspaper has kept a database of NFL player arrests since 2000:

http://www.utsandiego.com/nfl/arrests-database/

What makes me even uneasier is the gloss that the league and its networks put on the criminal element in the league.  I remember one Pittsburgh game last season when the announcers were talking about all the off-field "adversity" that Ben Roethlisberger has overcome in his career.  Right - he didn't beat two rape charges by tampering with witnesses, he "overcame adversity."  And hence the spin machine turns an incredibly violent game whose violence very often spills off the field into what I refer to as "NFL Disney."

I've grown pretty jaded about it all.

The spin machine may not have been in place back in the 1970s the way it is today, but in the research I've done on players from that era - and I've done a lot - there are just as many gruesome stories to go around.

One that's been on my mind a lot recently is the story of Deacon Turner.  He will probably never get a writeup for one of these awards, but you may know him as a backup running back for Cincinnati.  In 2011, he was shot dead in by two sheriff's deputies in Bakersfield, California outside a convenience store.  He was buying beer for some teenage boys, and upon being confronted by the two cops outside the store, he swung the bag he was holding at them, whereupon they opened fire.

There's the story of Mike Current, too, who was a pretty good offensive tackle over 13 seasons for Denver, Miami, and the legendary 1976-77 Bucs.  Current was coaching midget football in the Denver area, but in 2012 was charged with sexual assault of three victims age 14 or under between 2004 and 2010 after luring them with pornographic photos and videos.  On January 18th, 2012, Current's body was found dead of a shotgun blast to the head at a scenic overlook high in the Rocky Mountains during a frigid snowstorm.  The overlook was fourteen miles from the nearest point of civilization and there was no vehicle found at or near the scene.  Nonetheless, Current's death was ruled a suicide and the case was closed.

Darryl Stingley was brutally paralyzed by Jack Tatum, who refused to apologize because he was just doing his job.  Ottis Armstrong can't walk today; neither can Conrad Dobler.  Joe DeLamielleure and Tony Dorsett have chronic traumatic encephalopathy, the disease that killed Mike Webster at age 50 (and that caused Junior Seau to shoot himself to death).  Boobie Clark, Norris Weese, and Doug Kotar all died of brain issues before terms like CTE existed.

Harry Carson says he was smart enough to do something else.  He wishes he'd never played football, and said he would never allow his grandson to step onto a field.

It's all gotten to me to the point where I hope Bernard Pollard is right - not about a player dying on the field, but that fans will just get fed up with it, and that the league won't exist in 20 or 30 years.

And then there's Matt Blair.  He takes photographs. Flowers, mountain ranges, animals.  Take a look:
You can check out more of his work on his Web site:

http://www.mattblair.com/photo.html

It's nice work by a person who, from all accounts, seems to be a genuinely stand-up guy.

Did he have to overcome adversity?  Sure he did.  He was a military kid who moved around a lot - born in Hawaii, lived in Alaska, Spain, Idaho, Texas, Kentucky.  With all that instability, it's probably understandable that he struggled somewhat in school.  During his senior year of high school in Dayton, Ohio, the University of Cincinnati recruited him, but told him that his grades weren't good enough, so he'd need to attend a junior college

After winning a NJCAA national championship, Blair chose to go to Iowa State to play under Johnny Majors.  Majors told him he'd start on the fourth team and have to work his way up, and that's what drew Blair to ISU.  He liked the idea of having something to work for, some self-imposed "adversity," if you will.  Even now, Blair makes lists of his goals for each day, so that when he marks the items off, "that means I did what I was supposed to do" he said in an interview with cyclones.com in 2013.

Blair was inducted into the Vikings Ring of Honor back in 2012 after not only an outstanding career that featured six consecutive Pro Bowls from 1977-82, but also years of community service and outreach that lasted long beyond his playing days.  It all started in his rookie year when "Mr. Eller" (that's what Blair continues to call elder statesman Carl Eller to this day) encouraged him to visit children with multiple sclerosis.  Blair has continued to live in St. Paul since his playing days were over, and has had a long history with numerous charitable organizations. 

Another thing that started in his rookie year were his photographs.  That's when he bought his first camera.  His earliest photos were of his teammates.  "I always thought it was cool to capture images when you walk through life, especially when you see something and may never see it again... Taking pictures and stopping time is something I've always enjoyed doing." 

So there you have it: a nice guy.  A really nice guy.  And, when you start looking into the lives of NFL players, you just don't see a lot of that. 

Blair wasn't nice at all to the Cincinnati Bengals in Week 8, though.  He was on a tiger hunt, as he notched 13 tackles.  He forced a fumble.  And, if that wasn't enough, he took an interception 69 yards for the game-winning touchdown in a 14-7 win for a Vikings team that, surprisingly, finds itself in first place in the NFC Central at mid-season.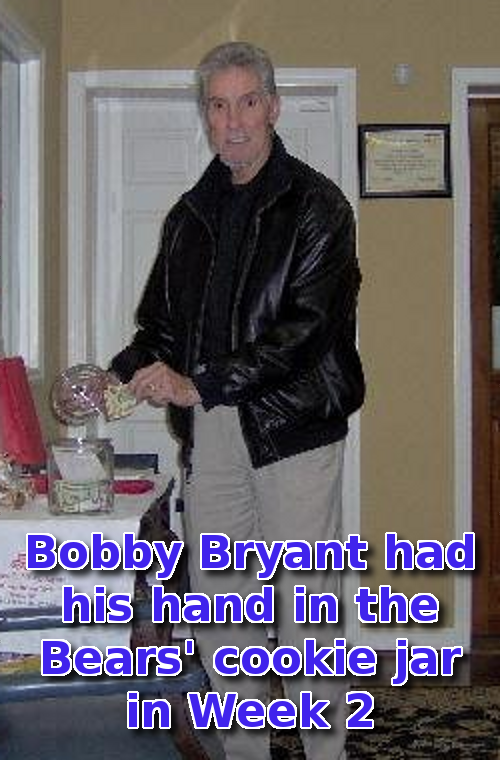 I wanted to present a TLL-exclusive interview with Bobby Bryant for this Player of the Week writeup, but he didn't return the couple of calls I made to his office this week.  He works for glass-replacement company in Columbia, SC called Quackt Glass (clever, I know) as a sales rep for insurance agents.  Bryant certainly smashed up the Bears in Week 2, snagging three interceptions off the arm of Vince Evans en route to a 14-10 Vikings' win against their intra-divisional rivals. 

Bryant is one of those lost souls of NFL history, a guy who played a big role on a great team.  He was a starter at corner for Minnesota for ten entire decade of the 1970s, an era when the Vikings were one of the most dominant teams in the history of the NFL.  You probably have never heard of him because the team just never got it together for the big game.  Only Cornelius Bennett has ever played for more Super-Bowl-losing teams (5) than Bryant has.

If you're like me, you spend plenty of time bitching about the "evil empire" that the New England Patriots seem to have established in the AFC during the past thirteen years or so.  But for those of us who grew up during the age of NFL parity, it is probably hard to fathom what the league looked like in the 1970s.

A friend of mine, Brad Tucker, over at his blog I've Got Glue on My String did a much more comprehensive three-part examination of the Vikings/Cowboys/Rams rivalry of the 60s and 70s than I am going to do, and I highly recommend it:

Part I: Pre-Merger
Part II: 1970-75
Part III: 1976-80

But try a few of these facts on for size:

-From 1969 to 1979, one of those three teams was the NFL/NFC representative in the Super Bowl all but once.  That's 10 out of 11.  Only the Washington Ethnic Insensitivities in 1972 broke the streak (beating Dallas before losing to the perfect Dolphins).
-Between 1969 and 1982, at least one of those three teams played in the NFC Championship game every single season. That is fourteen consecutive years!
-From 1973 to 1978, no other team appeared in the NFC Championship game.  I don't even know how to get my mind around that.

Bobby Bryant's career coincided perfectly with this era of tripartite rivalry.  In 1967, he graduated from the University of South Carolina, where he earned the nickname "Bones" for his recklessness on the field and willingness to play hurt.  The Dallas Cowboys told him they were going to take him in the first round, "But then I heard they tell everyone that," Bryant said in an interview for the Vikings Web site back in 2010.

The Vikings ended up taking him in the 7th round: "To show you how much the Vikings thought of me, they had the equipment manager, Stubby Eason, call me to tell me I had been drafted. Nobody from ownership or the coaching staff called me."  He had other options: the Yankees had drafted him as a pitcher in 1966, and the Red Sox did the same thing in 1967, but he always preferred football, even if he was going to be playing it in the snow and cold of Metropolitan Stadium in Minneapolis. 

It's a good thing for the Vikings that he did.  He made two Pro Bowls (1975-76), and still ranks second on the Vikings' all-time interception list with 51, behind only Hall of Famer and NFL all-time interception leader Paul Krause.  But Bryant's greatest hour (or greatest three hours) came in the 1976 NFC Championship game against the Rams. 

Los Angeles dominated the game early, driving down to the Vikings' 1-yard line late in the first quarter with no score in the game. The Minnesota defense performed an excellent goal-line stand (including a tackle by Bryant on Lawrence McCutcheon), and the Rams elected for a field goal attempt by Tom Dempsey.  But the kick was blocked by special teamer extraordinaire Nate Allen, and Bryant scooped up the ball, running 90 yards for the first points of the game.

"I was just doing what I was supposed to on the play," Bryant recalled in the vikings.com interview. "I was too slow to get much of a rush. My job was to wait for the ball to be blocked and to pick it up and run it. I had a little trot as I came across the line. Nate blocked it and the ball took one bounce right into my hands, like a loaf of bread."

The Vikings built a 17-0 lead early in the 2nd half, but Los Angeles came back to close the gap to 17-13, and they were driving late in the 4th quarter.  As Ram wide receiver Ron Jessie appeared to break open in the end zone, Pat Haden targeted him for the go-ahead score.  But Bryant, who was actually covering on the other side on the play, left his man to step in front of the pass and intercept it right out of Jessie's hands.  He already had one interception in the game.

The TLL Week 2 game against the Bears may not have had the heavy implications of a title game, but Bryant's performance was no less heroic, with two of his three interceptions taking place in the end zone in this tight contest.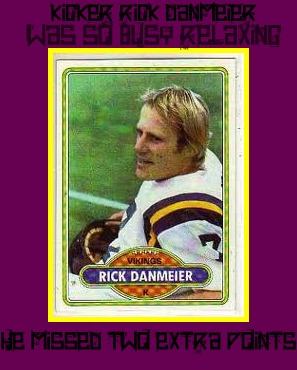 The Week13 contest between the winless Bills and the underwhelming Vikings provided for an entertaining, if not, full on clinic of how not to try and win games. Buffalo's first drive culminated in a missed FG, but the Vikings had some tricks up their sleeve, as kicker Rick Danmeier went on to miss back to back extra points. We are talking about arrow up the middle, full on shanking the kicks to the right. This apparently was a game of one team attempting to upstage the other. As the Bills were driving at will yet again, LB Matt Blair forced RB Terry Miller to fumble. But no matter, only a few plays later Rickey Young laid the ball on the carpet, giving the ball right back to Buffalo in Minnesota territory. Buffalo would later fumble again, winning that mini-game.
Outside of the many gaffes by each team the game may be summed up by stating that neither defense played all that well. Each offense seemed to zip up and down the field. The Vikings managed their best passing output of the season (238 yds), but even so Fran Tarkenton was still off target. Many of his passes landed behind the receiver, causing the receivers to cut off routes, and turn back for the ball. Luckily for Tark his wide receivers, especially Ahmad Rashad (2 rec 61 yds), were able to win the one-on-one coverage battles in the midst of the poorly thrown passes. The Viking starting WRs (69 and 63 RE respectively), both have less than 500 yards receiving on the season, definitely a sign of what this offense has typically been about. Rickey Young had a decent game, getting involved in the pass game (3 rec 124 yds), while completing a few nice runs (6 att 68 yds).
Buffalo RB Terry Miller peeled off some spectacular runs himself when he moved into GOOD or EXC condition. He was a master of changing direction, and the Bills largely were winning the battle at the line of scrimmage. In all, Miller managed 93 yards on the ground with 1 TD and a long of 54. Like his aforementioned counterpart, Joe Ferguson is another QB that just cannot get his timing and control settled. The much maligned QB did gain 2 TDs on the day, though, despite being unable to complete many of his deep balls.
Coach Slim felt it in the air that his winless team would come away victorious at the end of the day. Instead, the Bills lost yet another, as late in the game Rick Danmeier redeemed himself by booting a 55-yard FG, giving the Vikings the lead for good. Despite a lackluster season Minnesota is now (8-5), and in decent position to make the playoffs.
Paragraph #3
No Movie (Yet)
Quarterbacks

| Name | # | Age | RS | RP | MS | HP | BB | AG | PS | PC | PA | AR | CO |
| --- | --- | --- | --- | --- | --- | --- | --- | --- | --- | --- | --- | --- | --- |
| Tommy Kramer | 9 | 27 | 69 | 25 | 13 | 13 | 19 | 38 | 50 | 50 | 50 | 56 | 50 |
| Steve Dils | 12 | 27 | 69 | 25 | 13 | 13 | 19 | 38 | 38 | 38 | 38 | 44 | 44 |
Tight Ends

| Name | # | Age | RS | RP | MS | HP | BB | AG | BC | RE |
| --- | --- | --- | --- | --- | --- | --- | --- | --- | --- | --- |
| Joe Senser | 81 | 26 | 69 | 13 | 31 | 50 | 25 | 25 | 63 | 56 |
| Bob Bruer | 82 | 29 | 69 | 25 | 31 | 44 | 19 | 19 | 50 | 31 |
Kicker

| Name | # | Age | RS | RP | MS | HP | BB | AG | KP | AB | AC |
| --- | --- | --- | --- | --- | --- | --- | --- | --- | --- | --- | --- |
| Rick Danmeier | 7 | 30 | 81 | 56 | 81 | 31 | 13 | 38 | 44 | 50 | 50 |
Punter

| Name | # | Age | RS | RP | MS | HP | BB | AG | KP | AB |
| --- | --- | --- | --- | --- | --- | --- | --- | --- | --- | --- |
| Greg Coleman | 8 | 28 | 81 | 25 | 44 | 31 | 13 | 38 | 50 | 69 |

Additional Practice Squad Players
--------------------No Players---------------------
Overall Record
3 - 13 - 0
25th
Home Game Record
0 - 8 - 0
29th
Away Game Record
3 - 5 - 0
29th
Passing Yards
106.06 Yds/Game
29th
Rushing Yards
74.19 Yds/Game
17th
Total Offense
180.25 Yds/Game
29th
Passing Yds Allowed
133.81 Yds/Game
20th
Rushing Yds Allowed
71.31 Yds/Game
13th
Total Defense
205.13 Yds/Game
18th
0 Super Bowls, 0 Super Bowl Rings

| Name | Year |
| --- | --- |
Offensive Players Of The Year

| Name | Year |
| --- | --- |
Defensive Players of the Year

| Name | Year |
| --- | --- |
Player of The Week

| Name | How Many |
| --- | --- |